AARON TILLMAN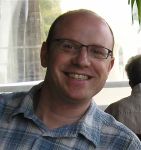 Aaron Tillman is Assistant Professor of English at Newbury College. His fiction has appeared in
Opium Magazine
(online),
The Carolina Quarterly
,
Glimmer Train Stories
, and
The Babson Literary Magazine
, and he has recorded two stories for broadcast on the
Words & Music
program at Tufts University. His essays have appeared in
Studies in American Humor
,
The CEA Critic
, and the anthology
The Intersection of Fantasy and Native America
. Along with a short story collection, he is in the final stages of revision on a novel.
His short story "Heeding Doctor Eisner" appeared in the September 2010 issue of The Drum.
Audio Stories by AARON TILLMAN