LYNNE BARRETT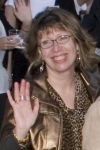 Lynne Barrett's story "Macy Is The Other Woman" appears in her second story collection,
The Secret Names of Women
(Carnegie Mellon University Press). She has received the Edgar award for best mystery story and a National Endowment for the Arts fellowship. Her stories have been published in
Night Train
,
Ellery Queen's Mystery Magazine
,
Delta Blues
,
One Year to a Writing Life
,
Miami Noir
,
A Dixie Christmas
, and many other anthologies and literary magazines. She teaches in the MFA program at Florida International University. More information can be found at
http://sites.google.com/site/lynnebarrett/
She recorded "Macy is The Other Woman" for the June 2010 issue of The Drum.
Audio Stories by LYNNE BARRETT