KATRINA GRIGG-SAITO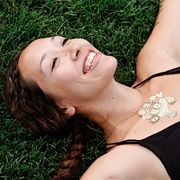 Katrina Grigg-Saito's essay adventures have appeared or will appear in: the short story anthology
Tomo
, the essay anthology
The Chalk Circle
, two
National Geographic
anthologies, the
Christian Science Monitor
, NPR, CNN-go,
The Japan Times
,
Skirt Magazine
,
Metropolis Magazine
, and
Tokyo Art Beat
. .After living in Tokyo and working for two years as a producer and on-camera television journalist for NHK-World, she started her life as a global-nomad-writer, falling in love with alarming regularity at
http://beinginlovethere.com.
Her essay "The Original Feminist" appeared in the December 2010 issue of
The Drum
. Her flash fiction children's story "Isaura and the Lions" is part of
The Drum
's Books, Actually project for the 2012 Boston Book Festival, available on the
Moveable Feast app
. And her essay "Assailing Otherness," from the collection
The Chalk Circle
(edited by Drum contributor
Tara Masih
), appears in the November 2012 issue of
The Drum
.
Audio Stories by KATRINA GRIGG-SAITO