MIRIAM NOVOGRODSKY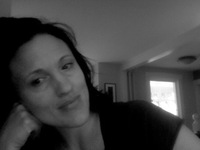 Miriam Novogrodsky's stories have appeared in a number of small presses most notably,
Glimmer Train
. A reluctant contributor to the memoir craze, Novogrodsky is hard at work on one. Included in the collection are stories about growing up staked out by the FBI for her father's role in Vietnam protests, playing fun family games like Border Crossing, Bulgarian Olympics and 'Crate You Up for Fat Camp'. Additional family pastimes, including hypochondria and undiagnosed mental illness are examined in her eclectic collection.
Her essay "The Year We Ate Half A Cow" appeared in the February 2011 issue of The Drum.
Audio Stories by MIRIAM NOVOGRODSKY