SUSAN ORLEAN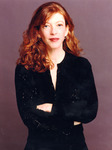 Susan Orlean has been a staff writer for
The New Yorker
since 1992, and has written profiles, Reporter at Large, columns, Talk of the Town, and Popular Chronicles on subjects ranging from taxidermy to umbrella inventors to figure skater Tonya Harding. Prior to joining
The New Yorker
, Orlean was a contributing editor at
Rolling Stone
and at
Vogue
, where she wrote about figures in both the music and fashion industries. She has also contributed to
Esquire
,
Smithsonian
, and
New York Times Magazine
.
In addition to her magazine work, Orlean is the author of seven books including My Kind of Place: Travel Stories from a Woman Who¹s Been Everywhere; The Bullfighter Checks Her Makeup: My Encounters with Extraordinary People; Saturday Night; and Lazy Little Loafers. In 1999, she published The Orchid Thief, a best-selling narrative about orchid poachers in Florida. The Orchid Thief was made into the movie, "Adaptation," written by Charlie Kaufman and directed by Spike Jonze. She has just completed a cultural biography of the dog actor Rin Tin Tin, which will be published in fall 2011.
An excerpt from the Rin Tin Tin book appeared in the March 2011 issue of The Drum.
Audio Stories by SUSAN ORLEAN