RAHNA REIKO RIZZUTO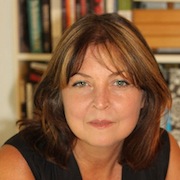 Rahna Reiko Rizzuto is the author of the memoir,
Hiroshima in the Morning
, which is a
National Book Critics Circle Finalist
and the winner of the Grub Street National Book Award. Her first novel,
Why She Left Us
, won an American Book Award in 2000 and was named one of the best books of the year by the Honolulu Advertiser. She is also a recipient of the U.S./Japan Creative Artist Fellowship, funded by the National Endowment for the Arts. Her work has appeared in numerous publications, including the
L.A. Times
,
Salon.com
, the Huffington Post and the Progressive Media Project. She was Associate Editor of
The NuyorAsian Anthology: Asian American Writings About New York City
, and teaches in the MFA program for creative writing at Goddard College. Her website is:
www.r3reiko.com
.
Excerpts from Hiroshima in the Morning appeared in the May 2011 issue of The Drum.
Audio Stories by RAHNA REIKO RIZZUTO