CD COLLINS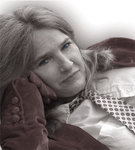 Kentucky native CD Collins follows the storytelling traditions of the South, both as a solo artist and when accompanied by musicians. As one of originators of the early '90s resurgence of spoken-word with live music, her work has been archived in award-winning compact discs:
Kentucky Stories
,
Subtracting Down
and
Carousel Lounge
. Collins' fiction has appeared in numerous literary magazines including
StoryQuarterly
,
Salamander
,
Phoebe
and
The Pennsylvania Review
. Her collection of poetry,
Self-Portrait with Severed Head
, was published by Ibbetson Street press in 2009. Her collection of short stories,
Blue Land
, was released by Polyho Press in June 2009. This collection includes the Pushcart nominee "Sin Vergüenza." She has produced a short lyric documentary which chronicles the catastrophic steps of mountaintop removal to retrieve Appalachian coal. She has recently completed a novel and is currently working on a one-woman show. With her band, Rockabetty, she is recording a new compact disc entitled,
Clean Coal/ Big Lie
. For more information please visit her website at
www.cdcollins.com
.
Her essay "The Vigilantes of Vance" appeared in the December 2010 issue of The Drum.
Audio Stories by CD COLLINS