STEVEN LEE BEEBER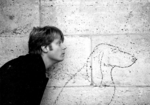 Steven Lee Beeber has published two books:
The Heebie Jeebies at CBGB's: A Secret History of Jewish Punk
(Chicago Review Press, 2007) and
AWAKE! A Reader for the Sleepless
(Soft Skull Press, 2008). His work has appeared in
The Paris Review
,
Fiction
,
Bridge
,
The New York Times
,
Spin
,
MOJO
,
Memorious
, and elsewhere. He is associate editor of
Conduit
, "the only magazine that risks annihilation" (
www.conduit.org
) and once blew sax for the Atlanta-based Gospel-punk band The Chowder Shouters. His website is
www.jewpunk.com
.
His short story "Blood Red Nails, Pale Cold Hands" appeared in the January 2011 issue of The Drum.
Audio Stories by STEVEN LEE BEEBER